Quad Seal
The exclusive Quad Seal®. Delivering a level of ballistic consistency not previously achievable thanks to its revolutionary four-ring design. The Quad Seal reduces recoil, increases striking energy and is 100% environmentally friendly being fully degradable.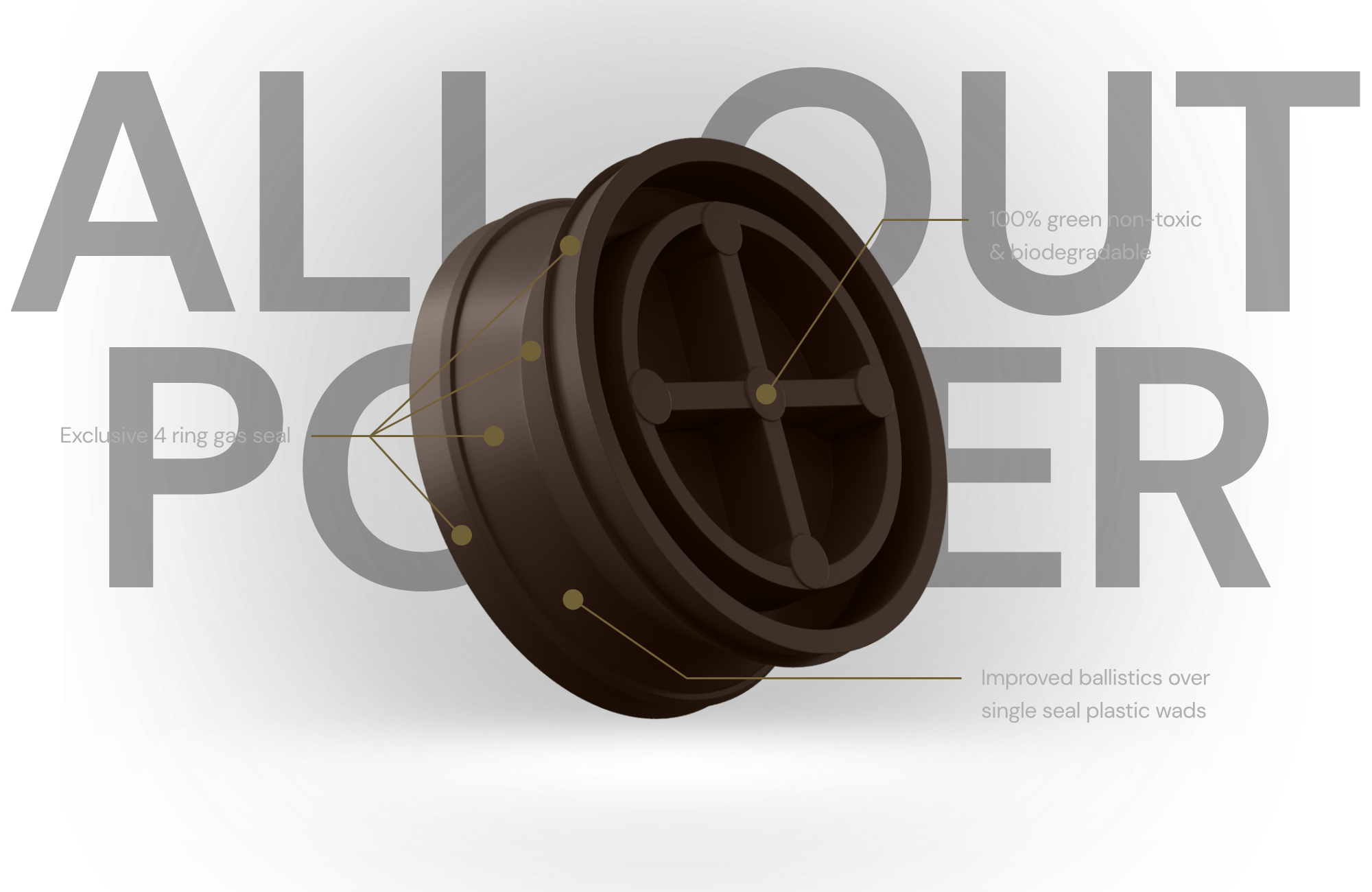 Introducing the next step in ballistic technology - Gambore's innovative new Quad Seal
Increased Striking Energy
The unique four-ring design of the Quad Seal gives four times the sealing area when compared with a conventional plastic wad. This creates an incredibly tight seal, limiting gas leakage past the wad and resulting in increased striking energy where it matters most - downrange.
Improved Ballistic Consistency
Our engineers conduct extensive research into the development of the advanced ballistic technology we use in our products. The results produced in our ballistics laboratory show a highly increased consistency of standard deviation shot to shot, not only over fibre wads, but also over standard plastic wads.
Reduced Recoil
A traditional fibre wad with a powder card obturator combination allows pressure to leak behind the powder card obturator upon ignition; it is therefore necessary to use more powder to compensate for this. The Quad Seal fully retains the energy, meaning there is no need for extra powder; as a result the recoil is noticeably reduced and the cartridges are far smoother to shoot.
Biodegradable
As an innovative, technology-driven company, our main aim when developing the Quad Seal was to advance ballistic performance and shooter's comfort. We achieved this whilst also creating a product that helps to protect the environment. The Quad Seal is 100% green, non-toxic and biodegradable. It will fully dissolve within a shooting season or sooner, degrading far more quickly than the powder card obturator typically found in most modern-day fibre wadded cartridges.
Gamebore's water soluble Quad Seal material is fully biodegradable, conforming to the CEN 13432 European standard for compostability. This standard covers:
Ecotoxicity (does not impede plant growth)
Heavy metal content (does not contain heavy metals above the permitted level)
Biodegradability ISO 14851 (conducted in an aqueous environment)
Disintegration - Compost (breaks down passing through a 2mm sieve after 12 weeks composting)
HD Casing
High density polymer plastic case designed to perform in our premium, high performance range to give easy loading and smooth ejection from a case made specifically for these demanding loads.