Posted: 13th May, 2016
Award Winning Ammunition
News from the 2016 TimeInc Shooting Industry Awards where Gamebore received two accolades - Best Game Cartridge and Best Clay Cartridge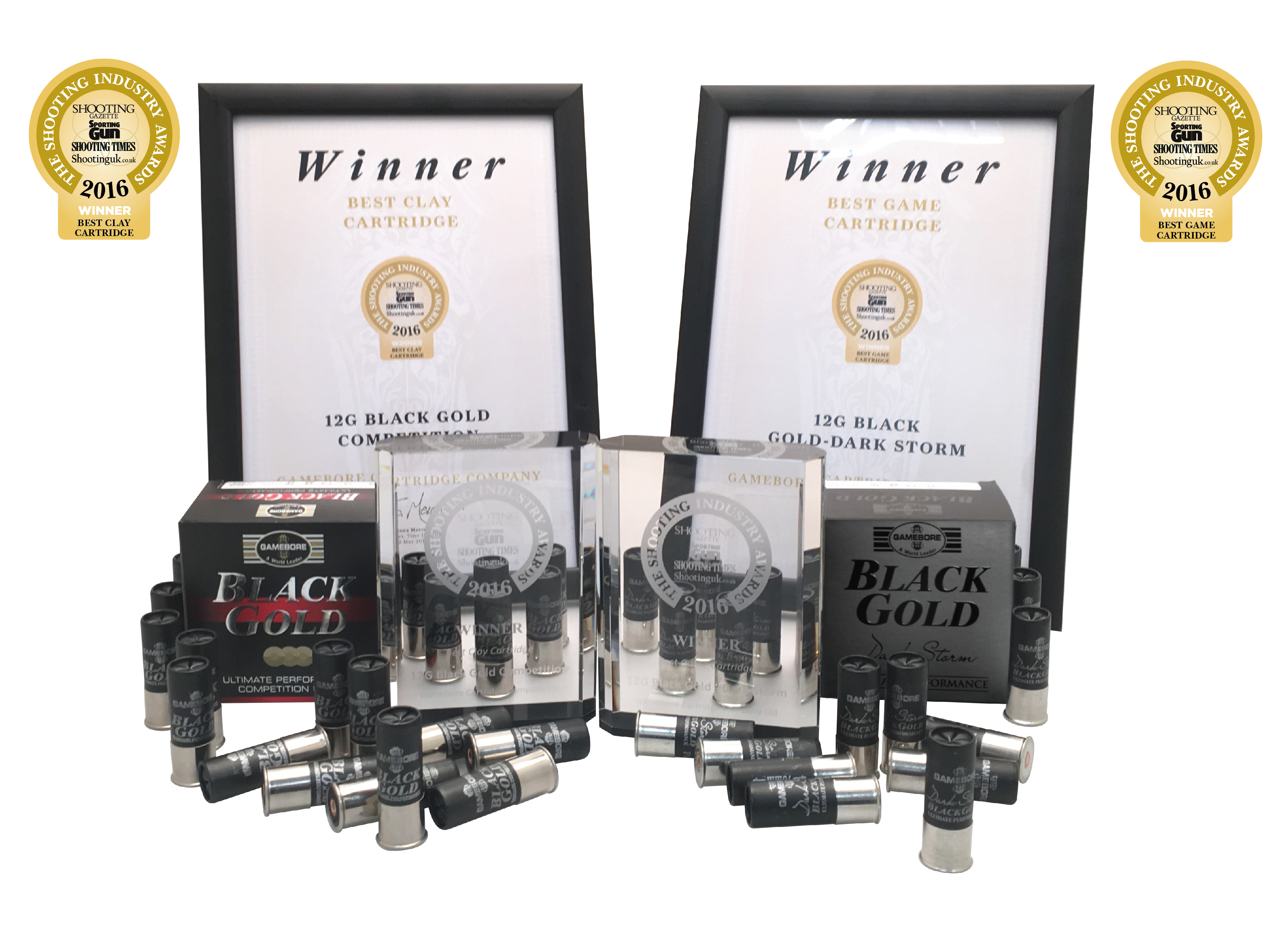 We're celebrating this morning at Gamebore HQ, because last night at the annual Time Inc 'Shooting Industry Awards' our products were recognised in not one, but two categories; Best Clay Cartridge and Best Game Cartridge - Never before have both categories been awareded to one manufacturer. 
The awards, organised by Fiona Mercer of Time Inc, publishers of Shooting Times, Shooting Gazette, Sporting Gun and The Field magazines, are an annual celebration of our industry where we come together to recognise new products and innovations in the UK field sports market. Products are judged by a carefully selected panel of industry experts who together analyse the products and businesses entered in several categories.
We nominated our flagship Black Gold 'Dark Storm' load in the Game Cartridge of the Year category after experiencing an incredible response to the ad campaign launched in 2015. We enjoyed receiving regular positive feedback throughout the season from shooters that took the time to get in touch with us to let us know what they think of Dark Storm, so it was clear to us that it had a very good chance of being selected as the winner. It is a cartridge that our research and development team, along with our marketing department, put a great deal of effort in to, so to have that hard work recognised with a Shooting Industry Award makes us very proud. 

2015 was a really tremendous year for Gamebore clay shooters, in particular Mark Winser with his win at the Stratstone Ultimate One and of course George Digweed's incredible achievement of THREE World Championship titles in one year. Their successes, along with that of other Gamebore shooters, backed up our entry in the Clay Cartridge of the Year category. Looking at sales, marketing, customer feedback and techinal performance, the panel of judges chose Black Gold competition as the winner. 

To receive one award is something we consider to be a great achievement, so upon being awarded with both we were simply stunned. These awards recognise the hard work and enthusiasm of all Gamebore staff across our production, marketing, sales and logistics departments. 
We'd like to thank all of the Gamebore retailers worldwide for their assistance in promoting and selling our products, and of course each individual shooters that continue to choose our cartirdges over the many other brands available today. We put a great deal of effort in to creating and fine-tuning products that the shooters will love and we endeavour keep pushing ourselves to remain at the top of our game. 
Thank you