Posted: 29th Feb, 2016
WIN a Year's Gamebore Sponsorship
Find out how you could be the winner of a Year's Gamebore Sponsorship for 2017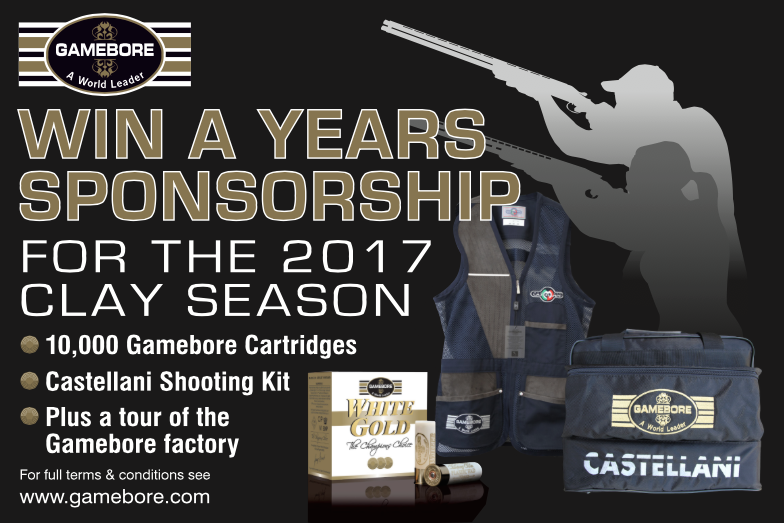 Win A Years Sponsorship for the 2017 Clay Season 
We are deligthed to announce the details of a competition we are running based on performance throughout the current competitive clay shooting season.
Do you want to represent a world leading manufacturer of sporting ammunition? If so, then this is the competition for you. If you shoot regularly at CPSA competitions and are achieving consistently good results, or you show noticable improvement throughout the current clay season, then you could be in with a chance of winning a Years Sponsorship from Gamebore for the 2017 competitive clay season.
Michael Hibbert joined Team Gamebore this year after entering this competition last year. You could be taking the massive prize home this year!
The Prize
10,000 Gamebore Cartridges 
Castellani for Gamebore Shooting Kit
A Tour of the Gamebore factory
The Criteria 
The judges will consider each individual application based on scores, averages, improvement, sportsmanship, personality and suitability to represent the Gamebore brand. One winner will be selected to become an official Gamebore sponsored shooter for the 2017 competitive clay season. 
Terms & Conditions
Entrants must have a current CPSA Competition (Full) membership. (Or UCPSA, WCTSA, SCTA) This competition is open to UK shooters only. Entries must be received by 31st July 2016 (Email info@gamebore.com to request an application pack) Gamebore attire to be worn during all cometitions and for any photo opportunitites for media coverage. A FREE Gamebore cap will be supplied upon receipt of completed applications. More clothing/accessories are available to purchase at www.gamebore.com/shop (optional) Exclusive use of Gamebore shells to be verified with proof of purchases throughout the remainder of the current competitive clay season. Applications from shooters who are new to using Gamebore shells are welcome (Receipts from Gamebore retailers required as proof of purchase) A file will be created at Gamebore HQ for each applicant, to be regularly updated with info supplied by the applicant regarding performance and achievements throughout 2016. The files will be used by the panel of judges to select the winner. 
The competiton is open to existing part-sponsored Gamebore shooters. There are no restrictions on age and applications from shooters of all CPSA classes and shooting disciplines are welcome. Winner to be announced January 2017 - The judges decision is final. The prize, 10,000 cartridges (White Gold or equivalent) to be delivered to the winner. Shooting clothing and accessories to be chosen from www.gamebore.com/shop by the winner who will also be invited for a VIP, guided tour of the Gamebore factory followed by lunch, on a mutually convenient date. There is no cash alternative. 
By entering the competition, entrants agree that should they be chosen as the winner, they will be required to be photographed for Gamebore's promotional use both online and in shooting magazines etc. If you have any questions regarding any of the above please email lydia@gamebore.com or call 01482 481936. 
Email info@gamebore.com now to request an application pack