Posted: 6th Jun, 2016
The 2016 European FITASC Championship - A guest blog by Rachel Carrie
A guest blog by Rachel Carrie, reporting on the dramatic events at the 2016 European FITASC Championships that saw Gamebore Ambassador Mark Winser bringing home the Silver medal.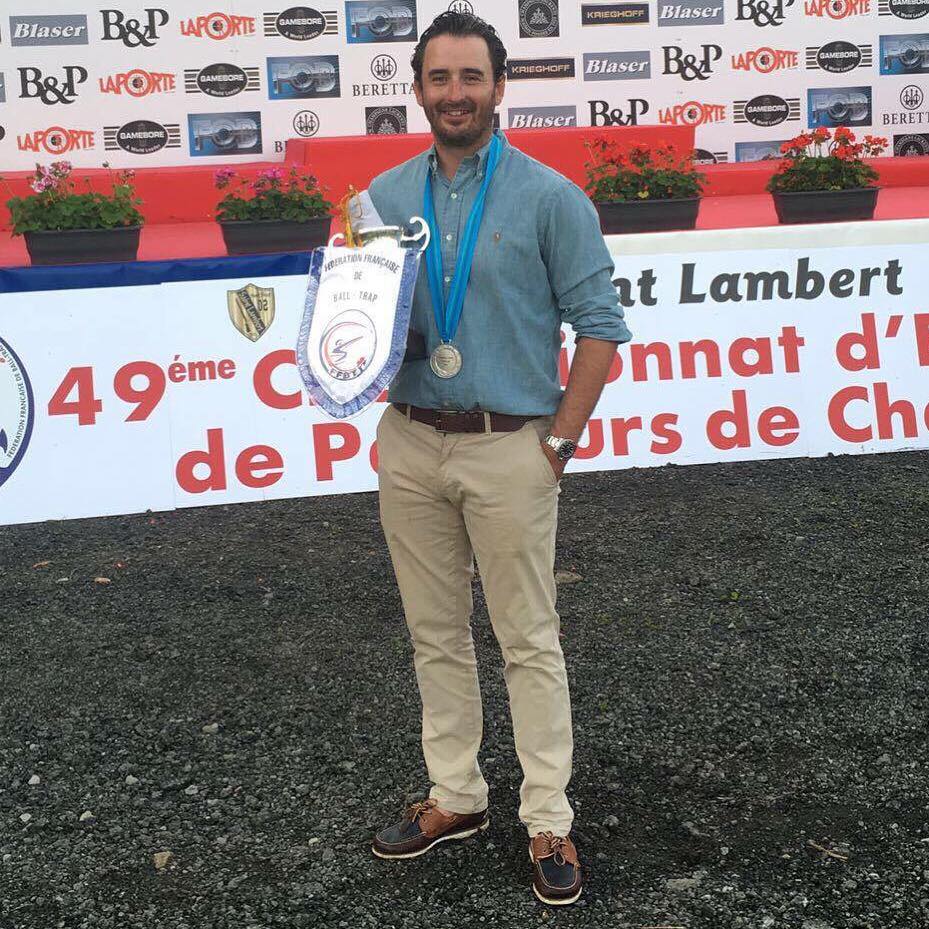 For those of us not fortunate enough to be at St Lambert watching the drama unfold, the Facebook newsfeed provided somewhat confusing and conflicting news reports of events as they happened. As we all waited with baited breath to see who would eventually be declared the 2016 European FITASC Champion, few were as nervous as UK shooting 'WAG' Rachel Carrie who was anxiously waiting for news of the shoot-off between Mark Winser and Frenchman Matthieu Delmar. 

Here, Rachel tells us from her own perspective, what happened in France;
"The buzzer had now been sounded so many times in my final round of Olympic Trap I was starting to feel like a bad act on the Xfactor! I couldn't focus on my shooting if my life had depended on it. I never can when my other half is shooting a major competition, this time more than ever, I was so keen to finish the round and check the scores… again… for the hundredth time.

I'd refreshed the Multipull site so many times that morning already my thumb was sore. Mark, was in France shooting the European FITASC Championships, he'd had to leave me at our friend's wedding in Cyprus on the Tuesday ready for the competition, I had a sneaking suspicion he was going to shoot well, he'd had a rare chance to relax in Cyprus sunshine in the run up, spend time with friends he rarely gets to see and spend a week away from his busy coaching and competition schedule. I suspected right. After two days and the first hundred targets, using Black Gold cartridges, Mark had only let two targets slip. Spanish competitor Diego Eguizabal Martinez was level pegging and Frenchman Mathieu Delmas was only one clay behind.
As always it was going to be tense going into the final two days of competition. One thing I have learned in my time as a 'WAG' to a top clay shot is that in the last day things can really get interesting and anything can happen. Which is why I am sat on the final day with only hours to go until the last shot is to be fired, frantically refreshing the score board to see if Marks 190/200 is enough to take the win.

Having spoken to him and had our post-shoot debrief which mainly comprises of him kicking himself for missing those "unforgivable targets" and me gushing to him how proud I am and how well he's shot. In my experience watching Mark compete, I'm pretty tuned into him and can usually sense when he's going to miss – women's intuition maybe. Or perhaps I've grown familiar with the type of targets which can catch him out. For Mark it's rarely the monsters, you know the type which leaves the whole squad gasping when the ref shows the targets. When watching Mark compete it is these targets I relax for. He seems to like a big target, evidenced by his ability to shoot Steve Lovatt's events well, but show me a steady incomer or simple slow crossing target, the score builders… and that's when I look like I'm watching a horror movie. If I had a pillow this is when I'd hide behind it!
So I know exactly what he means when he calls me and tells me "I missed some right puddings" with the knowledge that he had missed some "puddings" I knew that his score was not as safe as it could have been. It was going to be close, too close with Matthieu Delmas and a number of shooters including capable GB shots Brett Winstanly and Nick Hendrick still out there fielding scores yet to be posted. In those final hours of competition, 74,000 refreshes later the results were in – Matthieu Delmas came in with 190 to contend with Marks, closely followed by Nick Hendrick and Carl Bloxham – whom I feel bad for neglecting to mention thus far. Us 'youngies' can often forget that we have a very rich vein of veteran talent that can at any point spring up and give the younger generation a good sorting out – Steve Brightwell is always a worry and my dad can still give Mark a thrashing every now and then. Both Steve & Nick posted excellent 189's meaning a Gold Medal shoot-off would take place to decide the 2016 European Champion – as if my nerves hadn't been wracked enough I now had to endure awaiting the results of a shoot-off!
I hate not being there. I even had a fleeting thought of who I might know with a private jet or helicopter to get me over there in time to support my man in his hour of need. Quickly pulling myself together and remembering we're talking about the same man who shot off at the Ultimate High tower challenge under the pressure of knowing it was for largest prize in shooting history – and still managed a 25 straight. Who was I kidding? He's got this! So the next best thing to a helicopter - A spy, someone to watch and relay results in real time. Phil Kreighoff and I were on messenger, Mark was getting ready to shoot, our last text exchange was ten minutes to say he was shooting in 15 so I knew it was close.
The First message Phil was able to get through was that it was all over and Mark had won silver, my heart sank momentarily. I'm always proud of Mark no matter what but I won't lie I was slightly shocked and disappointed for him. He was in such good form all week I think I'd taken for granted that he was coming home with Gold. My disappointment lasted all of ten seconds as I saw the bright side – out of 700 shooters Mark had still shot the highest score and finished in 2nd place. But after a few minutes had passed Phil messaged again and said something was happening. The referees and shooters were discussing something, the longest 3 minutes of my life ensued with me desperately barraging Phil with "what's going on?". He finally messaged to say he had made a mistake. It was actually going to a sudden death shoot-off.
No sooner had it sunk in that there was still hope, he could still do it - the message came through; "Mark won!". I can't tell you how much my heart lit up in that moment! A bit like when Jon Snow was brought back from the dead! I couldn't believe what I was seeing. After the first 'false alarm' from Phil I thought I'd confirm that he'd definitely won it. Phil replied that he had and I could relax, with that I wanted to shout from the roof tops! So I did… The 'rooftop' everyone uses nowadays - I quickly posted an excited "He's done it" on Facebook and within minutes it was swamped with hundreds of likes and well wishes. I was so excited and so upset I wasn't there to fling my arms around my man! What I didn't know though, had I been there I wouldn't have gotten close to him at all and he wouldn't be in the mood to celebrate, no one was.
I was back in the UK letting everyone know the fantastic news, back in France there was a "situation" unfolding! Almost 40 minutes after being told Mark was the 2016 European Champion and having not yet spoken to him Phil called to say that a mistake had been made and Mark was trying to rectify it. I realised Phil could not get close enough to know the full details so I called Paul, Gamebore cartridges Commercial Director, who was close to Mark. Paul explained the situation to me - the referee had made a mistake, he had scored Mark a target that he had not hit. Mark himself was claiming that he did not hit it, however the referees were unable in their power to reverse the decision. The score card was final.
Paul was trying to calmly explain through my disbelief that Mark was not pleased with the decision and was trying to refuse the win. He said that there was anger amongst the inflating crowd of shooters and they were doing all they could to rectify it. I'm not going to lie at this point, I was angry, deflated and confused. I just couldn't understand why one minute he was being crowned champion the next minute it was being taken away. I couldn't help for a split second think back to all of the times that a mistake made by a referee had worked against Mark and actually lost him a title shot. This time it was working in his favour whether anyone is prepared to admit it or not you would have all had the same thought. I was being selfish. I wanted my man to get the Gold he so rightly deserved. Little did I know at that time of the significance of what Mark was about to do; he was about to commit an act of pure selfless sportsmanship, an act of honour that would show him for exactly the man he is, the sportsman he is. An act which will be used as a pillar of integrity for our sport, an act which shames all those who have in the past claimed titles disingenuously.
The rules of FITASC state that the referees decision is final, and although Mark was adamant that he did not hit the target, the President of FITASC had to abide by the regulations of our sport. Forty long minutes of deliberations and protest ensued, with Mark adamantly refusing to take the title. His persistence and the desire of everyone involved to rectify the situation prevailed and it was agreed that the only resolution they could allow was for them to shoot off again.
In my mind again I saw this as another chance for Mark to fight for Gold, it was fair, a fair shot for both competitors, it was a clean slate. I was clinging on to glory - a chance for Mark to win the title. Thinking how most mortals would be thinking at this point, that's the point in all of this; Mark is not like the rest of us. He doesn't think like the rest of us, that is why he is who he is, it is why he is able to compete at such a high standard in our sport. He went into the second shoot-off having already made the decision of what he would do.
At this point his shooting ability was not in question, Mark is a phenomenally talented shot he shot the first two stations leading by five targets making sure he proved that. Then at the last station he did something remarkable; Mark shot the last station in the wrong direction to where the targets were going ensuring he could not win.
In Marks mind the second shoot-off should not have happened. Matthieu had beaten him by one clay fair and square. Sure Mark could have taken the referee's final decision and taken the title disingenuously he wouldn't be the first sportsperson to have gained a title by dishonest means. He could have walked away with 'European Champion' to add to his already impressive CV with a gold medal to boot. Referees are only human, mistakes can be made we must rely heavily on our own integrity as shooters to make the right decisions the honest decision.
Mark chose the way of a true Champion. He proved what an incredible sportsperson he is, honest, humble and gracious in defeat. He chose to use the situation to set an example and his honesty and sportsmanship was rewarded, he received an incredible standing ovation at the awards ceremony and all agree what Mark did will be remembered for many years to come for all the right reasons. He made history that day - something he seems to be making a habit of. He walked away from the European FITASC Championships with something that no amount of broken clays or gold medals can buy. He does however owe me a new manicure which I may send the bill to Phil Krieghoff for giving me several bouts of heart failure!
I think credit must also go to the President of FITASC Jean Francois Palinkas, who when faced with difficult circumstances did all he could to aid in the resolution whilst ensuring the integrity of FITASC remained intact and rules were upheld. Thank you to everyone for the messages of support, well wishes and a huge emotional and heartfelt Congratulations to Matthieu Delmas European FITASC Champion 2016!"
We'd like to congratulate Mark Winser on his remarkable performance throughout the championship, taking home the Silver medal to add to his already impressive collection. Huge thanks to FITASC for the opportunity for Gamebore to be present at the Championship and congratulations to all organisers and staff at Saint Lambert for putting on an incredible shoot despite the terrible weather conditions!