Posted: 16th Feb, 2015
New to Team Gamebore
Welcoming three new shooters to Team Gamebore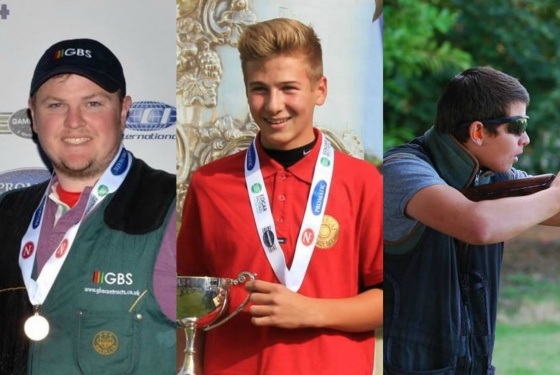 Thirty-year-old Sam Nunn first came to our attention at last years British Open Sportrap Championship at Garlands where we watched him perform in a nerve wrecking shoot-off to secure the Silver medal in the Disabled Standing category. His sportsmanship and personality impressed us, as well as his shooting with our Black Gold loads, so we were keen to offer Sam a place in Team Gamebore for 2015.

Sam, who became a father for the first time last year, counts his proudest achievement in shooting as the 2014 English Open Sporting Championships in which he was presented with two medals - Gold in Disabled Standing and Silver in C Class.

Among the shooting greats, Sam considers two long-time Gamebore ambassadors George Digweed MBE and Adrian Last to be his heroes in the sport, both for different reasons "George sets the bar overall and Adrian for his determination and skill considering the hurdles he has to deal with".

Alex Wilkinson

Cheshire young shot Alex Wilkinson has been on Gamebore's 'radar' now for a couple of years after he became a scholar in the Gamebore Academy ran by Phil Coley. We've watched his progress and in particular it was his success throughout 2014 that convinced us to officially welcome him to the team. 

At sixteen years of age Alex has accomplished many things in the sport so far, winning the 2014 British Schools & Young Shots Championship and becoming Colt Champion at the 2014 British Open Sporting using Gamebore's Evo Sporting cartridges. 

We had the pleasure of watching Alex shooting in the final of the Great Wall World Series at the Midland Game Fair, shooting against some top senior shots in front of a large crowd and the Clayshooting.TV cameras, securing 3rd place.

Alex moves from Colts to Juniors for the 2015 competitive clay season and intends to continue to work hard to secure a top spot in the major competitions in the Juniors categories. 

Sam Mullins  

The youngest of our new representatives is fifteen year old Sam Mullins from Oxfordshire who began shooting just last year but went on to secure some impressive achievements throughout 2014, including becoming the 'Champion of Champions' in the Schools Challenge and his proudest achievement so far - "winning the Junior Starshot Champion 2014 title, as there was fierce competition and immense pressure".

Sam uses Gamebore's Evo Sporting loads and counts George Digweed MBE among his sporting heroes as he is "Very cool, calm and collected when he shoots, which has brought him great success".

He intends to work to keep the winning momentum going throughout the 2015 season, hoping to compete and have success in multiple Sporting disciplines. 


We would like to welcome the three newcomers to team Gamebore and wish them the very best of luck for the new season. We look forward to watching them progress and hopefully reporting on their successes throughout the year!