Posted: 1st Mar, 2016
New To Team Gamebore
Welcoming two Junior shots, new to Team Gamebore for 2016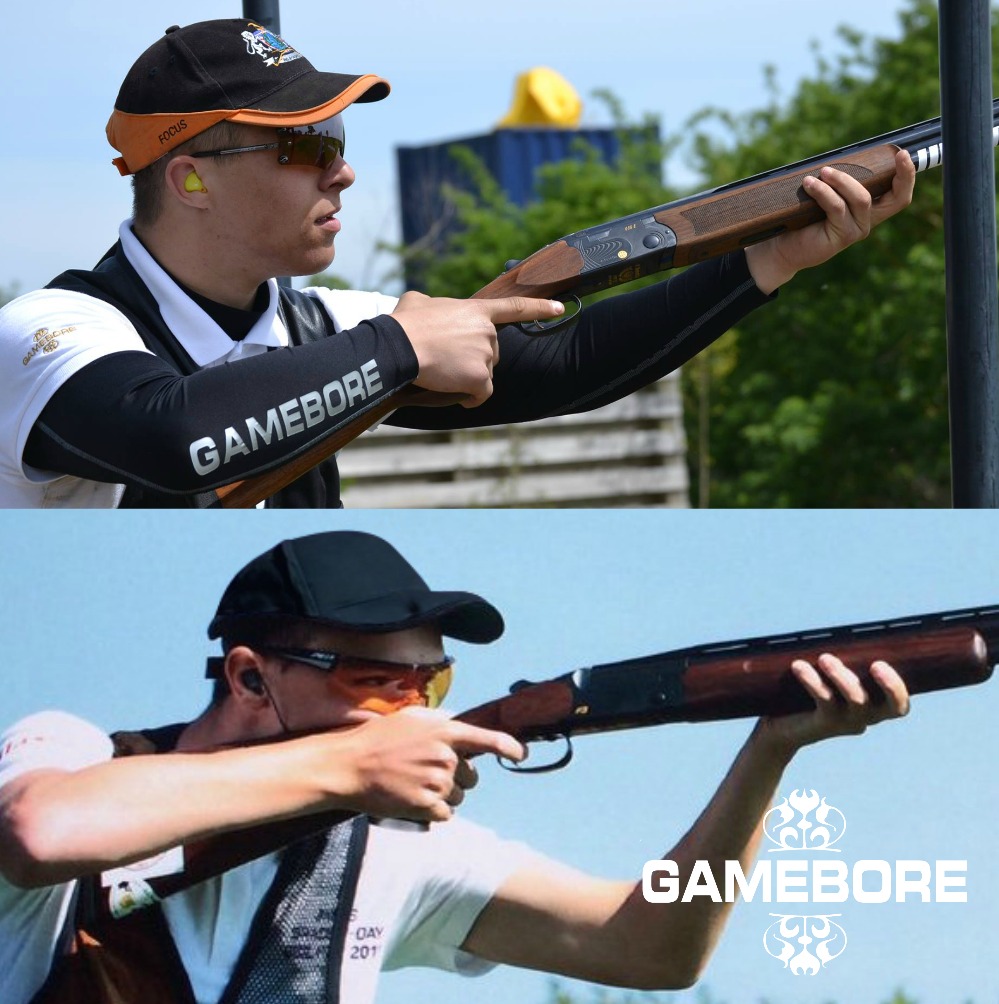 At Gamebore we are always keen to be part of some of the UK's biggest clay shooting championships. As sponsors of major events, not only does it allow us make a contribution to the sport and provide us with an opportunity to meet many of the people that use our products, it also gives us a chance to watch them in action.
It's always a great pleasure for us to see individuals shooting well with out products, particularly the younger shots, and two such shooters caught our eye last season.
Aaron Harvey
We attended the British Open Sporting at Garlands Shooting Ground, where we got to watch 19 year old Suffolk shooter Aaron Harvey putting Black Gold to good use in a phenomenal performance that beat off competition from many previous British Open Champions.
With a place secured in the Super Six final, Aaron calmly stepped up to the cage alongside some of the UK's best, most experienced shots. If he was nervous he certainly didn't show it and judging by his performance, it definitely didn't affect his score. After beating Gamebore's Mark Winser in a tense shoot-off, Aaron finished in 3rd place overall. A remarkable achievement for a shooter still in his teens, who also secured the Junior High Gun title at the event.
Aaron has for a long time been a 'one-to-watch' and it's always a pleasure to see him and his family at the events. We were thrilled to see that Aaron was using Black Gold for the championship, and to learn that it had been his shell of choice throughout the entire season, his most successful yet. It was for that reason that we have selected him to represent Gamebore as a sponsored shooter.
At just 19 years of age he's holding his own against some of the countries most long established and experienced shots and we strongly believe that it's only a matter of time before we see him stood on the top spot of the podium at a major championship.
James Bradley-Day
Putting our White Gold shells to excellent use at Westfield Shooting Ground last September in the White Gold Challenge final was 18 year old James Bradley-Day from Kent.
It was a pleasure to watch James, a Silver Category finalist, shoot the sequence. Particularly as he posted a score in the qualifying round that would have easily secured him a spot in the Gold Category final. To see a shooter of such a young age, competing against some of the countries most celebrated shots was an absolute pleasure – shared by many of the crowd of spectators who were singing his praises. 
It was this performance that first caught our attention and we have followed his progress ever since, continuing to be impressed by the scores he's regularly putting in. For that reason, we were delighted when he told us that he'd love to represent Gamebore as one of our sponsored shooters.
It was not only his shooting, but also his smart appearance, his good manners and sportsmanship that were endearing and we're certain that many on the shooting circuit will agree that he makes a fine addition to the Gamebore team. 
In his debut as a Gamebore shot, using White Gold, James put in an incredible perfomance at the English Open Compak Championships last weekend finishing in 6th place overall and bagging himself the Junior Champion title! We're certain that this is just the beginning of James' success. 
We would like to take this opportunity to officially welcome both James and Aaron to Team Gamebore and wish them both the very best of luck this season. We are really looking forward to following their progress and seeing both at some of the major championships we're sponsoring this year.