Posted: 29th Jan, 2016
The Winner of a Year's Sponsorship
Here we announce the winner of the campaign we launched last year to give away a year's Gamebore sponsorship for the 2016 competitive clay season.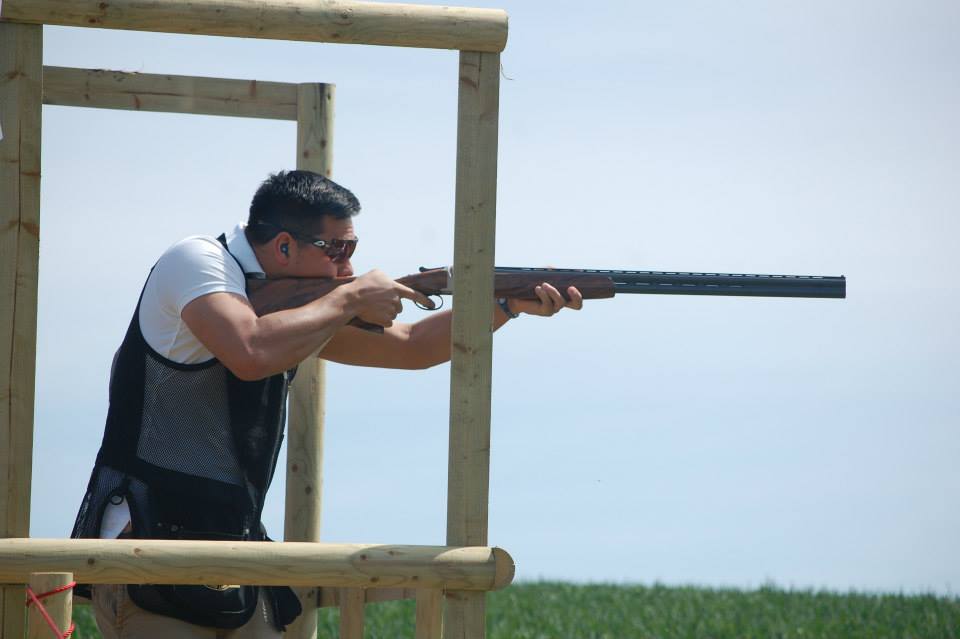 When we first announced our campaign in July 2015, the response we received was tremendous. Applications came in from all over the UK, from shooters of all ages and disciplines – so we knew immediately that selecting the winner was going to be no easy task.
The calibre of the applicants was brilliant – and it was encouraging to see the weekly updates coming in, from entrants keen to share their progress with us on a regular basis.
Throughout the course of the year though, there was one particular entrant that stood out as being a top contender.  What most impressed the judges was the speed at which he has progressed from being a beginner, to securing his place in AAA class in the Sporting discipline.
Highly Recommended
One shooter told us "I first met him when he was a club shooter, today his is an AAA class shooter competing in all the major competitions in the UK and abroad" adding "He is polite, well respected and always smartly dressed in Gamebore kit because he loves the quality of the cartridges and being associated with the brand".
He was also described by Martin Chapman at the West London Shooting School as "a total Gentleman, always smart and polite" 
Martin added "His scores at Sporting and FITASC have gone up and up and I can't think of a better person to choose to become an ambassador for Gamebore".
The Winner Is…
Many of you will know Michael Hibbert, a friendly face on the clay shooting circuit – and as such, it is always a pleasure when we see him at the various Gamebore sponsored events throughout the competitive clay season.
Reading Michael's application, our judges were impressed by his positive  attitude, plus his enthusiasm not only for his own shooting, but for encouraging others in the sport.
You're most likely to find Michael (28) at A C Sporting Targets in Northolt, where he first started shooting and continues to use for most of his practise "The owner, Andy Castle, is always willing to offer his shooing knowledge It's my local club and is a friendly, relaxed place to shoot whilst preparing for competitions"
From Hillingdon in Middlesex, Michael's biggest achievement in clay shooting so far is winning the Greater London Sporting Championship at South Down Gun Club "After shooting for only three years, this win gave me a massive confidence boost"
"There were some big names, such as Mark Winser, on the trophy – so it was a worthy cup to win, plus it showed me that everyone starts somewhere – look at him now!"
Michael's goals for the 2016 competitive clay season include finishing in the top six or competing in a Super Final of a major event, encouraging and supporting others to progress with their shooting and to continue to develop and improve his own shooting.
Surely it's only a matter of time before he bags himself a major win, and we hope that with our support, he'll be able to achieve this.
An Interview with Michael Hibbert
What is the most important quality in a sportsman?
Humility. So you can achieve your goals and satisfy your own desire to keep growing as an athlete, whilst believing you're not better than the others.
Who's the sportsperson you most admire and why?  
Usain Bolt. When he won the 100m race it was like he appeared out of nowhere! He made it look effortless and no one could catch him.
Who'd be in your dream squad?
1) Mark Marshall – A good friend and an excellent shot. He is an all round great sportsman.
2) George Digweed – I think everyone who shoots would love the chance to watch him in action and be on his squad.
3) Andy Castle – Such a great shot, but he doesn't compete. I'd love to shoot with him in a competition.
4) Clint Eastwood – To see if he's as good a shot as his films make out.
5) Micky Flanagan  - To life morale and provide entertainment.
If you could develop and name a new Gamebore cartridge, what would you call it and why?
"Aphrodite" It would be named after the Greek goddess of love, desire and beauty. The love of the sport, the desire to win and the beauty of the product. It would be a smooth, soft recoiling cartridge designed specifically for ladies!
7 ½'s or 8's?
Personally I prefer 7 1/2 because I feel the heavier pellet keeps going that little bit further and will strike the target with more energy.
If you could win one major championship in 2016, which would it be?
If I could win a major championship in 2016 it would be the World English Sporting at E J Churchill. This is because it is at home in the UK, and if I were to get to the final my family would be able to come and support me. I feel it would be great to win such a prestigious event in my home country.
Person I'd least likely to be in a shoot-off against:
There is no one I would least like to shoot off against as I would use this as a learning experience. I feel you are only shooting against the targets and it is them you need to beat. I would just be proud of my achievement of getting to the shoot off.
My first gun was:  A Browning Ultra XS 32" 12 bore
My biggest fan/supporter is:
My biggest fan/supporter is my girlfriend Natalie, she has always supported me with my shooting and encourages me to do well. She also sacrifices her time to come and motivate me at shoots.
Who are you bringing with you on the tour of the Gamebore factory?
I would bring Natalie with me on the tour of the Gamebore factory because of all of her continued support for my shooting.
We are proud to have Michael on Team Gamebore and look forward to welcoming him and Nathalie when they come to collect his sponsorship package; 10,000 White Gold cartridges, Castellani shooting kit and an exclusive tour of the Gamebore factory! 

Best of luck, Michael! 
The Runners-Up
Jennie Cartwright is currently in B Class in Sporting and hopes to make the England Ladies team in 2016. Confident and friendly, our judges particularly like Jennie's positive attitude. With a glowing refernce from coach John Heagren, plus many nods of approval from various shooters on the competitive shooting circuit, Jennie secured a place on our shortlist early on. She told us "Being chosen as a Gamebore shooter would inspire me to continue to strive for greater things. The fact that a great company like Gamebore believed in me and my ability would really spur me on" We certainly do believe that she has what it takes, and hope that being selected as a runner-up will in some way give her a boost! 
Derek Street from Scotland is a well-known and popular sporstman in Dunoon. His regular file updates throughout 2015 included countless local newspaper articles reporting on his success. A regular at the top of the score boards, Veteran DTL shooter Derek's Gamebore shell of choice is Platinum Trap. We thoroughly enjoyed receiving his weekly updates and following his progress here at Gamebore HQ, so we were keen to offer our support by naming him as one of our runners-up, awarding him with 1,000 cartridges which we hope will assist with his training and help him achieve his goals for 2016.
Paul Cornwell from Haywards Heath in Sussex, is "one of the nicest people on the circuit, a true Gentleman with impecable manners" according to Jonathan Ward of Haywards Guns. Despite his circumstances meaning he is restricted in the number of registered shoots he can attend, he has achieved numerous class wins and managed to post a Personal Best of 92 ex 100. He also represented the Sussex Double Trap team, securing the 2014 Team Intercounties Championship. However, it was the personality in his application and the regular updates which were a source of amusement for our judges, that convinced them to name him as a runner-up. We do hope that the 1,000 cartridges will help to make a difference to Paul's shooting this season. (Please Note: We'd like Paul to know that his kind offer to shoot a round of Sporting in a Gamebore mankini is not necessary!)

Arran Eccleston is __ years old and lives in Shropshire. Despite having only been shooting competitively for two years, he has represented his County. Our judges were impressed with his humility and his determination to improve "Although I know I'm not the best shot, I believe I am progressing well and have already won a bronze team medal. Gamebore sponsorship would allow me to practice more and get to where I want to be quicker". We're sending 1,000 White Gold to Aaran and will continue to follow his progress throughout 2016. 
Each of the runners-up will receive 1,000 White Gold cartridges, to be collected from their local Gamebore local retailer. 
WIN Sponsorship for 2017
Want to win A Year's Gamebore sponsorship for the 2017 competitive clay season? Email info@gamebore.com to request an application pack.